Drake's European tour, which started at Manchester Arena in March and included six dates at London's O2, saw the Canadian rapper invest in Sennheiser evolution wireless G4 in-ear monitors to use along with the Digital 9000 Series microphones he had purchased in 2015.
Over the last decade, Drake has reached superstar status with his fusion of styles from rap and pop to Jamaican dancehall, and high-energy performances that are akin to those of an Olympic athlete. This, combined with the show's high production values and innovative use of technology (including miniature drones which lit up the auditorium), delivered a truly exceptional show for his fans.
Drake's front-of-house engineer, Demetrius Moore, has been working with the artist since he first appeared on Lil Wayne's I Am Music tour in 2009, whilst monitor engineer Sean Sturge joined the team in 2013.
Both are well versed in the artist's proclivities and have deployed Sennheiser equipment consistently throughout his career "Apart from one time when we went to a popular TV show and the product they were using was from another manufacturer," recalls Sturge. "Drake hated it, so we stick with Sennheiser." Initially opting for a combination of an SKM 5200 transmitter with an ME 5005 capsule and more recently its flagship Digital 9000 series.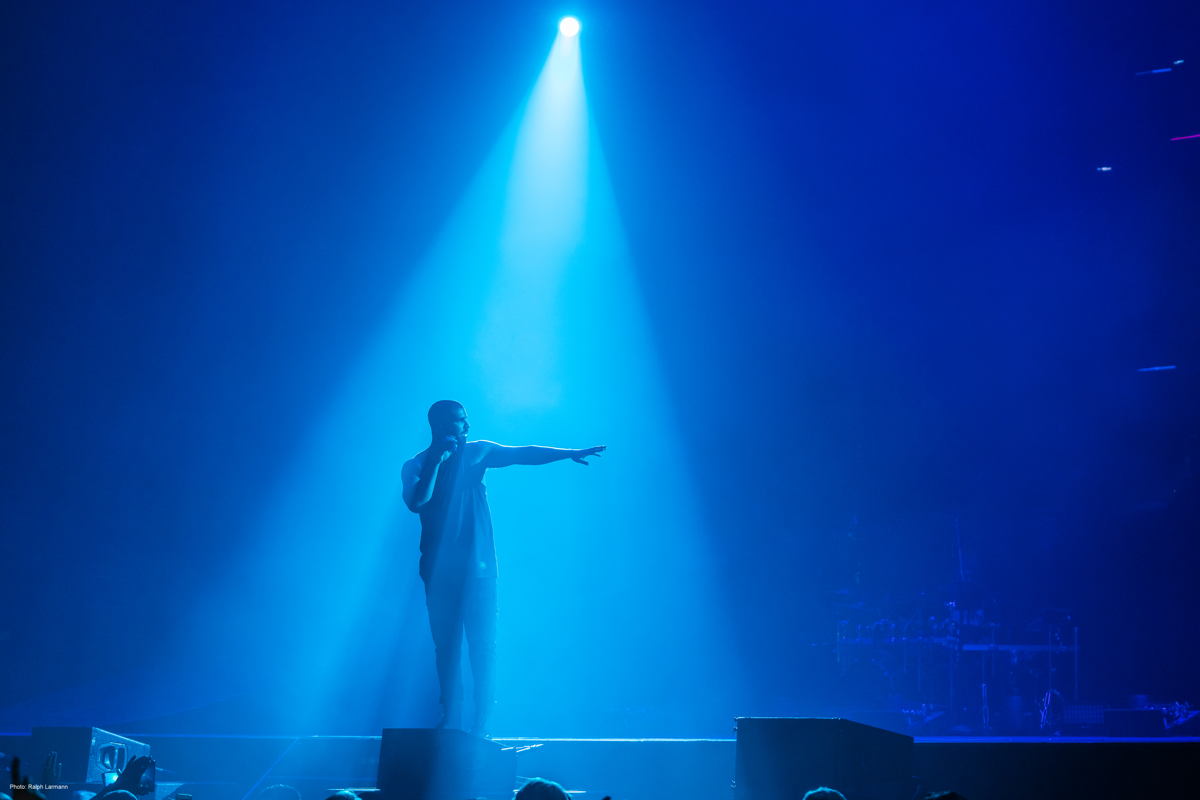 Moore explains that the move to Digital 9000, which was made in 2015, was "to keep up with the manufacturer's technology as it grows and develops", allowing them to be certain they are delivering the best possible audio for the show. They haven't looked back.
"The quality of the Digital 9000 Series means that we know we will have a stable microphone throughout the whole show," says Moore. "We've never had any dropouts and we've never had to switch to the spare. Drake performs out in front of the PA a lot of the time and the 9000 Series can easily handle that. Its tight pattern allows him to be heard at high quality all the time."
"We've also recently added 12 channels of Sennheiser G4 on IEMs," says Sturge. "I've found they make it very easy to reproduce the sound that Drake likes to hear. Being able to work at a very high SPL input and output is key. At this point, I don't think there is an IEM on the market that can handle the high SPL the G4 belt packs can achieve."
The quality of Sennheiser and the service the company offers was also praised: "Sennheiser is quick to respond if I need anything," says Moore. "They're always on the end of the phone or email."
Sturge, on the other hand, has not required any assistance. "But my tech Noah Gary reached out to them for support on his Bluetooth Momentum headphones," he smiles. "And they were great. That's what it's all about."
"Ensuring we help our customers get the very best out of Sennheiser products is an essential part of our service," says Pierre Morant, head of Artist Relations at Sennheiser. "We are both delighted and honoured to have been supporting Drake and his team for the past decade."
Images from Drake's 'The Assassination Vacation Tour'